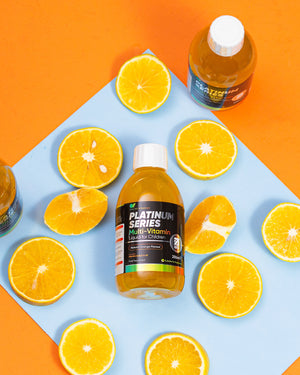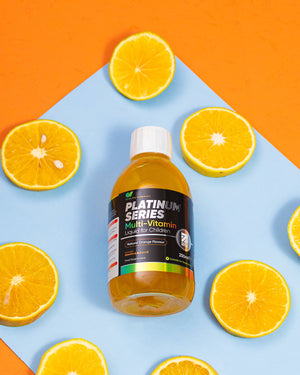 MULTIVITAMINS FOR KIDS 250ml
As parents, we all want the best for our children, and that includes ensuring they are getting the essential nutrients they need to support their health and development. The Platinum Series Multivitamins for kids comes packed with essential nutrients for your youngins. Children need a variety of nutrients to support their growth and development, and ur Kids Multivitamins Supplement is specially formulated with a combination of vitamins A, D, E, C, B1, B2, B3, B6, and B9 to provide growing children with the essential vitamins and minerals they need for optimal health and wellness.


Some of the key benefits of our Kids Multivitamins Supplement include:




Supporting overall health and wellness: Our supplement contains a blend of key vitamins and minerals, including vitamin C, vitamin D, and zinc, that are essential for overall health and wellness.

Supporting healthy immune function: Vitamin C and zinc are known for their ability to support healthy immune function, and our supplement provides a potent dose of these important nutrients.

Supporting healthy growth and development: Our supplement contains key nutrients such as vitamin D, which is essential for healthy bone growth and development.

Supporting healthy brain function: Our supplement contains important nutrients such as vitamin B12 and choline, which are essential for healthy brain function and development.

Supporting healthy digestion: Our supplement contains key nutrients such as probiotics and digestive enzymes, which can help to support healthy digestion and nutrient absorption.


Our Kids Multivitamins Supplement is made with the highest-quality ingredients and is formulated for maximum absorption and effectiveness. It is free from artificial colors, flavors, and preservatives, making it the perfect choice for parents who want a safe and effective way to support their child's health and development.

Plus, our supplement is delicious and easy for kids to take, with a great-tasting fruity flavor that kids love. Give your child the best start in life with our Kids Multivitamins Supplement.