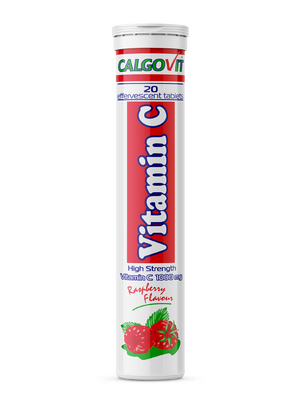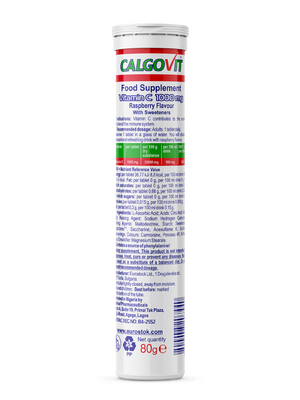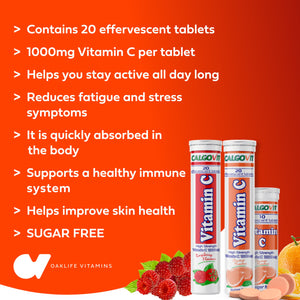 CALGOVIT® VITAMIN C - 20 Tabs Raspberry
Calgovit 1000mg Vitamin C is a great tasting effervescent formula which is quickly absorbed in the body. It's antioxidant properties help strengthen the immune system, reduces the severity and duration of cold symptoms, maintain skin health and fight stress and its symptoms.
Description

Calgovit 1000mg Vitamin C comes in an effervescent tablet. It is quickly absorbed in the body, It's antioxidant properties help strengthen the immune system, reduces the severity of diseases such as a flu and helps neutralizes the free radicals that cause oxidative stress to skin, leading to premature skin aging.
Calgovit effervescent vitamin C is an essential vitamin, It comes in a delicious and exciting orange and raspberry flavor.
Benefits
BOOST IMMUNITY AND IMPROVES SKIN HEALTH
Calgovit Vitamin C aids the production of white blood cells which help protect the body against infection. It also helps to reduce the harmful effects of free radicals and oxidative stress. It also aids in the production of collagen which is responsible for keeping the skin firm and healthy.
REDUCES STRESS AND IMPROVES MENTAL RECOVERY
Stress leads to the production of cortisol, (stress hormone) which helps the body recover. however chronic stress can cause excess cortisol production which leads to depression of some key organs such as the kidney and liver. Calgovit vitamin c helps reduce excessive cortisol production in the body thereby keeping you fit.
INCREASES IRON ABSORPTION FOR IMPROVED CARDIO RESPONSE
Calgovit Vitamin C supplementation helps improve the absorption of iron from the diet and also assists in converting iron that is poorly absorbed into a more absorbable form. Calgovit Vitamin C may help reduce the risk of anemia among people prone to iron deficiency.
SPEEDY RECOVERY POST WORKOUT

The antioxidant effect of calgovit vitamin c makes it a very important vitamin post workout. Exercise is part of a healthy lifestyle however constant workout may cause some stress and even put a strain on your lifestyle. Calgovit vitamin c helps people recover quickly from muscle soreness and tissue damage that may occure in the process of keeping fit.
WHY CHOOSE CALGOVIT EFERVESCENT VITMIN C? 
Calgovit high strength vitamin c is sugar free and it quickly absorbed into the body leaving you refreshed and hydrated. Calgovit 1000mg Vitamin c is highly recommended for people who are always active or on the go.  
Important information 
DIRECTION:
Put a tablet in a glass of water and allow it dissolve. 
DOSAGE: 
1 - 2 tablet per day.
INGREDIENTS:
Each tablet contains 1000mg of Vitamin C
| | | | | |
| --- | --- | --- | --- | --- |
| Content | Per Tablet | Per 100g Dry Substance | Per 100ML Drink | NRV*, % Per Tablet |
| Vitamin C | 1000mg | 25000mg | 500mg | 1250 |