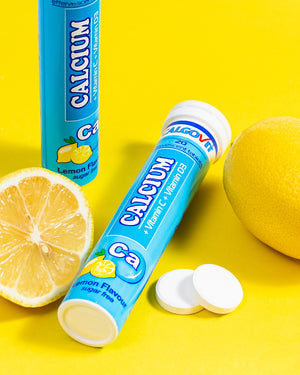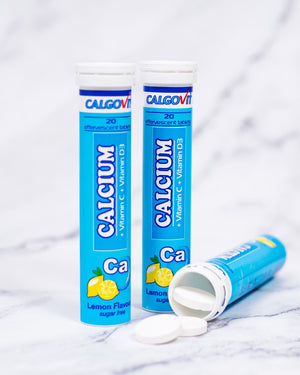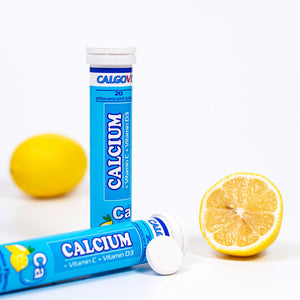 CALGOVIT 3IN1 CALCIUM – 20 Tabs Lemon
Calgovit calcium is a healthy aid for optimum bone, muscle and joint support which leaves you feeling STRENGTHENED FOR LIFE!
Description

Calgovit Calcium 3in1 is a premium calcium supplement that helps maintain strong bones and teeth; regulates muscle contractions; transmits nerve impulses; and helps release essential hormones and enzymes. It also prevents osteoporosis (loss of bone density) and fractures, which are higher risks among people with arthritis, those that are overweight, women, older people and malnourished individuals.
Calgovit calcium 3in1 is formulated with a healthy and nutritious blend of calcium carbonate, vitamin D3 (cholecalciferol) and vitamin C (ascorbic acid) for proper bone and teeth maintenance. However, to ensure calcium is properly absorbed into the body, vitamin D3 (which is the body's preferred source of Vitamin D) has to be present. No forgetting Vitamin C which also plays important roles in immune function.
Generally, calcium requirements are higher during childhood, adolescence and during lactation. Calcium can be lost from the body largely through urine, feces, breastfeeding and during pregnancy and in small quantities through hair, skin and sweat.
Benefits
BENEFICIAL IN PREVENTING OSTEOPOROSIS
Calgovit Calcium 3in1 is essential for maintaining bone health. Calcium and vitamin D deficiencies are major risk factors for osteoporosis development and possible fracture as we age. Adequate intake of calcium is highly recommended for preventing loss of bone density and attaining Peak Bone Mass (PBM).
OPTIMIZES NERVE CELLS AND MUSCLE FUNCTION
Calgovit Calcium 3in1 helps your muscles, and nerves cells function optimally as it plays critical roles in muscle contractions, nerve impulses, heart contractions, blood clotting, and cellular metabolism. Calcium is important in nerve impulse transmission and signaling across the nervous system. People who are into sports require optimum muscle function. The heart also performs better when Calcium is present in the body in optimal quantities
SUPPORT HEALTHY BONES AND JOINTS
Bone pain and joint stiffness may arise from poor calcium intake or absorption. Calgovit Calcium 3in1  enhances bone health by increasing calcium absorption in the body. Vitamin D3 is very important in ensuring calcium is properly absorbed into the bone structures. Lack of proper calcium in the bones may lead to issues like osteoporosis and osteoarthritis.
MAY HELP PREVENT AND RELEASE SYMPTOMS OF OSTEOARTHRITIS
Calgovit Calcium 3in1 prevents Bone loss, knee pain, lower back pain,  muscle cramps and inflammation associated with osteoporosis and osteoarthritis which is common amongst post-menopausal women and older men. The inflammation and pain of osteoarthritis is caused by a breakdown of cartilage between the joints. Calcium and Vitamin D are essentially required for restoration of this cartilage. 
HELP IMPROVE MUSCLE TONE AND ENDURANCE
Calgovit Calcium 3in1 prevents symptoms of Aging, such as weaker muscles. Certain diseases and medications can cause the muscles to become very weak and fragile over time. Vitamin c acts as antioxidant and helps protect your muscles from damage caused due to oxidative stress.  It also plays a vital role in the formation of collagen which is an important structural protein that is found in your skin, muscles, bones, and tendons. Calcium also helps to ensure the muscles remain active and performs optimally.
WHY CHOOSE CALGOVIT CALCIUM? 

Calgovit Calcium 3in1 is a Premium Effervescent Calcium Supplement.
It is easily absorbed into the body: Effervescent tablets usually have a higher rate of absorption than ordinary tablets.
It contains 500mg of calcium per tablet which comes as Calcium carbonate.
Calgovit calcium 3in1 helps people relief pain associated with joint stiffness and prevents osteoporosis.
It is sugar free and suitable for those that have a low sugar tolerance. It also contains

 

vitamin D3

 

which helps in the absorption of calcium. It can also be used by children from 4yrs of age.
Important information 
DIRECTION:
Put a tablet in a glass of water and allow it dissolve. 
DOSAGE: 
1 - 2 tablet per day.
INGREDIENTS:
| | | | | |
| --- | --- | --- | --- | --- |
| Content | Per Tablet | Per 100g Drink | Per 3 Tablet | NRV*, % Per Tablet |
| Calcium | 500mg | 250mg | 1500mg | 62.5 |
| Vitamin C | 200mg | 100mg | 600mg | 250 |
| Vitamin D3 | 3µg | 1.5µg | 9µg | 60 |